New Scoreboard at RHS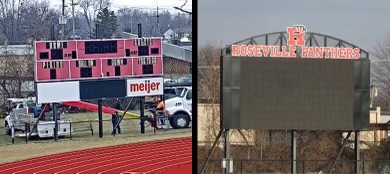 With the new year, comes new improvements and updates made to RHS! It had been at least 15 years since we have been able to update our football field's scoreboard and our athletes and fans could not be happier. 
"Overall, I think the new score board makes the field look a lot better and it makes me really excited for soccer season." Girls' varsity soccer captain, junior Kandace Stackpoole said.  
Even though our seniors are disappointed they do not get the chance to use the new scoreboard, they are happy for the class of 2023 and beyond. "I'm disappointed I didn't get the chance to use the new scoreboard, but all the hard work me and the class of 2022 put in paid off and now, many other generations get to experience something so valuable to our football program!" Varsity football player, senior Eddie Little said. 
Even our faculty members cannot wait to put the brand-new scoreboard to good use, "We have a brand new, state-of-the-art turf field and now we have a state-of-the-art score board, I am most excited to put videos on it, and use it for advertisement purposes." Athletic director and assistant principal Keith Marzec said. 
We hope that you can join us this spring as we kick off home games and events to check out the new score board!