Girls basketball honors parents at annual parents night
Last night, the lady panthers celebrated their annual parents night in between the junior varsity and varsity games. To start off the occasion, JV secured a win against Madison Heights High School.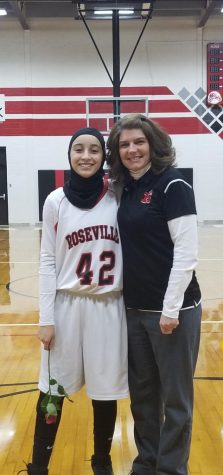 "They played great and worked as a team! I am very proud of them," junior varsity coach Stasi Earl, said.
After the win, both teams lined up single file behind their coaches. They were each handed a rose to give to their families. They were brought up, one by one to speak in the mic and give thanks to their parents for everything they do.
"I like seeing the kids with their parents and seeing them come and support their kids. Rather they have work or etc, they can be here for one night which makes it special," Earl said.
"It just builds on the family and the culture that we are trying to build with Roseville basketball, and we are just so happy with the girls and their parents for letting them be apart of this," assistant varsity coach Connie Frikken, said.
"Parents night gives us a chance to say thank you to all the hard working parents out there that help the program. We understand and appreciate the sacrifices they make daily so that their daughter can play basketball," head varsity coach Andy Houghton said.
Parent night is not only a favorite of the coaches, it is also highly appealed by administrators at the school.
"I think parents are su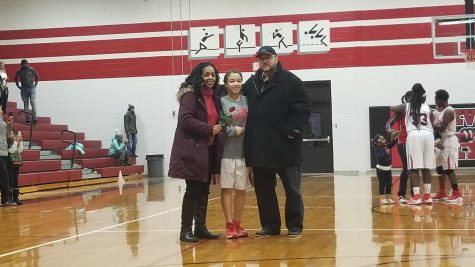 ch an important part of a kids success. It is always important to recognize them for everything they do for their kids," assistant principal Dennis Borse said.
Parents enjoy parents night and many look forward to it every year. Mother of Madelyn Lagassa, Alyx Lagassa said that she looks forward to this event and that it recognizes all of the participation from the parents.
Freshman Gracie Magee celebrated her first parents night and she really enjoyed it. She said she enjoyed thanking her parents and was excited that her parents could see her skills from her first game until now.
After the players honored their parents, varsity girls started their game. Gladly enough the girls ended the night with a successful win against Madison Heights High School. The score was 52 to 44.
"The girls worked very hard in practice leading up to this game. It was nice to see that hard work rewarded with a much needed league win," Houghton said.