RHS prepares for homecoming 2015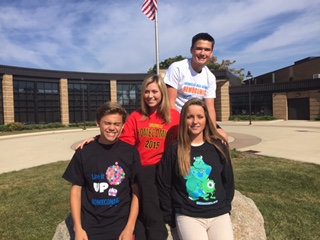 It is that time of year when people are swooning over homecoming proposals, shopping for their finest to dress to impress, and get geared up for a week full of spirit.
On Oct. 16, there will be a pep rally which will feature performances by the dance, step, and cheer teams. In addition, fall sports teams will be introduced, along with the announcement of Homecoming Court. Students can also participate in a variety of fun games.
Homecoming day takes place on Saturday, Oct. 24 starting early with the pancake breakfast at 7 am. After the breakfast is the parade, which starts at 10 am.   The varsity football team will take on Warren Woods Tower at 1pm. The marching band and color guard will be performing before the game and during halftime, along with the dance team with the little kids from the recent dance clinic.
"We are really excited to perform at homecoming for the first time," head coach Kaileigh Dutton said.
This year's theme for homecoming is Disney Pixar, which will feature class and club floats. The themes for each class are Finding Nemo for freshmen, Monsters Inc., for sophomores, Up for juniors, and The Incredibles for seniors. Each class is busy getting its floats ready for the parade.