RHS crowns homecoming heroes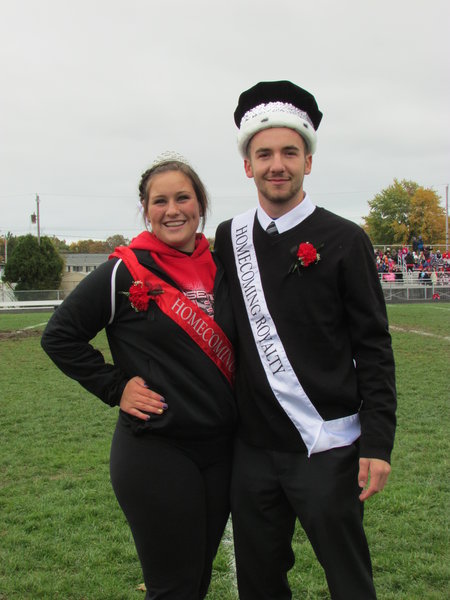 The good samaritans of Roseville High School were in distress, and they needed to be rescued. Not by just anyone, they needed a hero! To test who could be a true hero of Roseville, the students of RHS nominated 16 students who they thought needed to be tested, to find out who could save their school. There was a pep assembly held to cheer up the students, and announce the chosen students who were to be tested. The announcement of homecoming court was a long time coming, but it was here, and everybody had their hopes and guesses, as to who would be on court, and be tested to find the true heroes of Roseville High School. Regina Ritter, Nadarius Lee, Victoria Chapman, Devonte Thomas, Lindsey Somoski, Tylor Roberts, Allison Kotelniski, Joey Petrone, Lexi Griffin, Mikie McConnell, Amber Zundel, Austin Morrow, Ashley Jackson, Ryan DiCiacca, Taylor Besko, and Andrew Paton, were the 16 nominated senior heroes.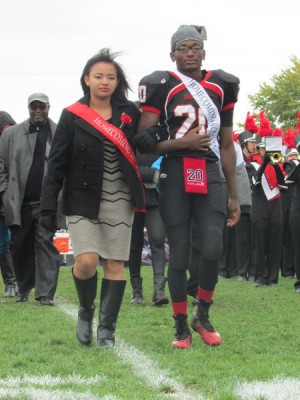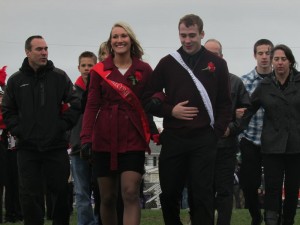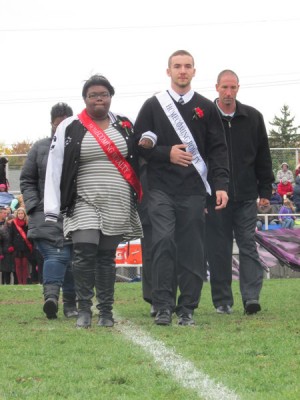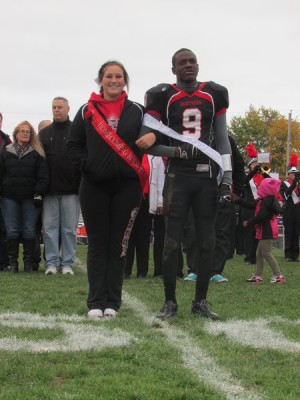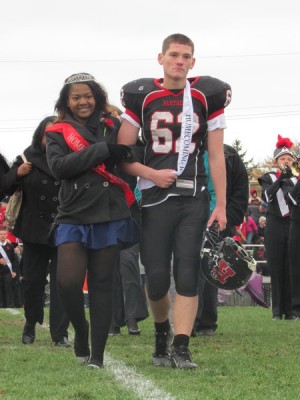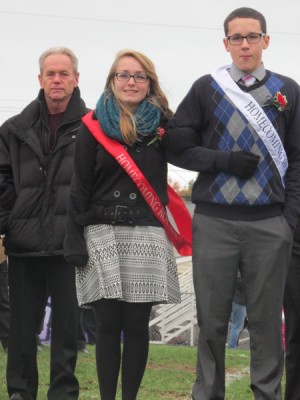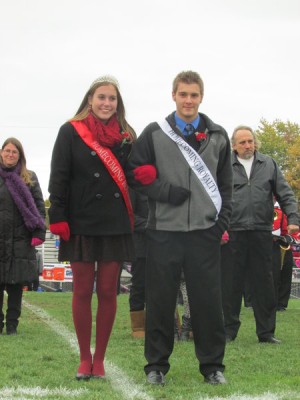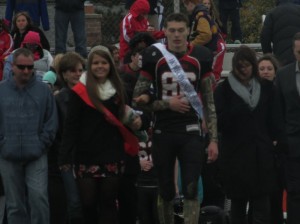 The week following the pep assembly was a week to bring out the school's spirit, celebration, and of course, to test the nominated heroes. Then of course, the day we had all been waiting for was finally here, and excitement was found in more places than the air; it was found in pancakes, floats, a football, and dancing.
The day started off at sunrise with an all you can eat pancake breakfast. After that, clubs, the RHS band, the RMS band, the EMS band, sports, cheerleaders, the dance team, elementary schools, the floats, and the members of the 2014 Homecoming Court Heroes appeared in the annual homecoming parade.
Next, came our homecoming game against Cousino, who we knew would be a tough competitor. Although the boys put up a tough fight, RHS lost, 34-14. Half time was a much better time for the freshman class when they found out they won the float contest. After that announcement, the RHS marching band marched out onto the field and created an isle way. We all knew what came next. The 16 members of court were announced, along with the crowning of the king and queen. The crowd ecstatically cheered when Victoria Chapman and Ryan DiCiacca, who were chosen to be Roseville High School's heroes, were crowned by last year's homecoming king and queen, Tyler Petrone, and Cassidy Martin.
"I didn't believe that they called my name! I was so shocked I didn't even hear them announce who the queen was!" DiCiacca said.
"I was so surprised, it was an amazing feeling! I just went blank in my mind, it was just a pleasure, especially because I had no idea I was going to win," Chapman said.
To end the night, a dance was held to honor the new heroes of Roseville. The dance was an abundance of fun. The members of court were announced for the last time, and the student body filled the gymnasium with cheers and applause for our new RHS heroes.
View Comments (2)