RHS Spanish students eager for trip of a lifetime
On June 21, 2016, RHS Spanish students will be embarking on an adventure to Costa Rica; a trip that will last eight days. This Spanish trip is open to students who have taken Spanish 2 and up in high school.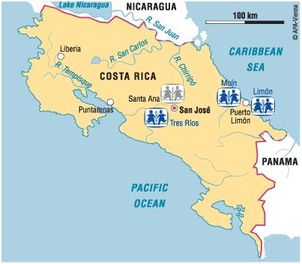 During the trip, students will be visiting various parts of the Central American part of the world. The first day, they will land in the capital, San Jose. On the second day, they will visit the Poas Volcano. While visiting the volcano, they will see a two-mile deep crater, and then visit the hot springs for a swim. The third day in Costa Rica, Spanish students will visit Monteverde, which is a nature trail consisting of natural wildlife. Four days into the Costa Rica trip, students will visit the Monteverde Cloud Forest. This forest is on a mountain that is up to 5,800 feet tall, and there will also be an optional zip lining tour. After that day, students will travel to Manuel Antonio and visit a local community school, to see the different way students learn. While still in Manuel Antonio, students will visit the beaches with a tropical forest. On the last day of this trip, the students will have a "Folklore Dinner," while doing some Ox Cart Crafts, and then after to return to San Jose so they can prepare to go home, all while having the chance to earn college credit.
 "[This trip is for] students who have an interest in traveling," Spanish teacher Carla Cipriano-Breuckman said.
If you are interested in going on this trip to Costa Rica, you can enroll online, or see Cipriano-Breuckman for an enrollment packet. The initial enrollment cost, excluding cancellation insurance, will cost $300, followed by monthly payments. To attend this trip, the enrollment deadline is not set.  Over the summer, Cipriano-Breuckman will also be hosting fundraisers as well to lower the cost. However, she expects the fundraisers to cover no more than half of the price.
"I feel like it would be great oportunity to get out of the country, before I go off to college." Junior and 4-year Spanish student Eryn VanderVlucht said.
To view more information on this trip, go to http://www.educationaltrave.com/ and the username is: "Roseville" and password is "2016". If you have any questions or need to check eligibility, see Mrs. Cipriano in room A106.
Video by Michael Edelstein
Leave a Comment