RHS welcomes new staff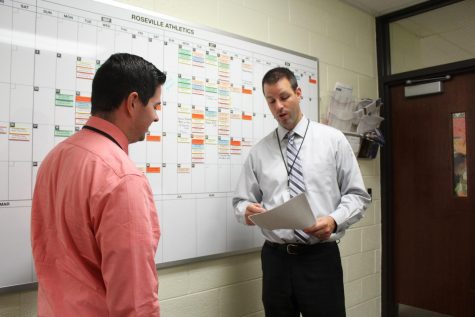 Dennis Borse, athletic director for the past two years,  is now an assistant principal. He chose to switch to become more involved with the high school, and to be in the building all day.  Last year, Borse had to split his time between RHS and a role as assistant principal at Eastland Middle School.  He says he enjoys his new position even though it is an adjustment, and he sometimes misses working with sports.  Borse found out over the summer about the opportunity when Dan Crow, the former assistant principal, retired.
" I miss athletics and being a  part of that, but I like learning about the new job," Borse said.
Taking over for Borse, Chris Lafeve was a special ed teacher for four years and is now the athletic director. In addition to being in the school, he also spends his mornings at Eastland Middle School acting as assistant principal. He applied for the position for the opportunity to work with student-athletes.  He also wanted the chance to work with the students at Eastland.
"It's a good cross between still being in the school to do school stuff, and work with sports, which I love," Lafeve said.