Club bridges gap between community, law enforcement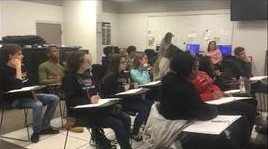 Here at RHS, there are many clubs and organizations that are open for everyone to join, like the Tectonic Leadership program. Tectonic Leadership is a new project founded by Brenda Rosenberg, author of the book Harnessing the Power of Tension, and organized by assistant principal Monica Gabriel. The word "tectonic" represents the tension of the tectonic plates, which connects with the tension between local law enforcement and the community, which the program is trying to eliminate. Currently, there are 20 students involved in this program. This is the first ever project of its kind in any high school across the U.S. Tectonic Leadership is using RHS, basically, as their "guinea pigs." It will be the start of an amazing organization at more and more high schools if it turns out well at RHS.
Tectonic Leadership was started to create future Tectonic Leaders that will develop solutions to help bridge the disconnection between law enforcement and the community.
How is this going to be done you might ask? By using the tension between law enforcement and the community to create a deeper level of understanding one another's concerns, such as feeling disrespected, feeling unheard, bias against various races and genders, or not trusting the police. RHS students have a chance to voice their concerns and frustrations towards local law enforcement, and in return, law enforcement get a chance to explain why these things happen. The students will also participate in various simulations that give them a chance to put themselves in the position of someone in a tense situation and how to handle it.
"If there's one thing that you should take away from this experience, it's that nobody lives a one-story life," Brenda Rosenberg said at a Tectonic Leadership meeting held on
Jan. 19.
The Tectonic Leadership students will be visiting the Roseville Police Department to get tours of the building; also, police/FBI officers will be coming to the high school to demonstrate numerous programs, such as: texting and driving, drunk driving, a shoot/do not shoot simulator, and will also be brought through the booking process.
"I'm excited because I feel like I'm taking a opportunity to be a part of the generation that makes change by helping one another see everyone as equal and not categorized human beings," junior Brianna LeBlanc said.
During their meeting Jan. 12, the future tectonic leaders took a tour of the Roseville Police Department. They learned the rules police officers have to follow and how the police operate each day. At the Jan. 19 session, they split into two groups and group one did a drunk driving simulation, while group two shared one thing most people would not know about themselves.
"My hope is that it will create a dialogue that really needs to happen continuously. If we only get out information from the media, we are bound for continuous issues and a culture of fear and hate," assistant principal Monica Gabriel said. "If we keep the lines of communication open, and both the community and law enforcement can be open and honest about their fears and concerns, we will get a lot more done and live in a safer community. Everyone has a vice and it's important that it's heard."
The Tectonic Leadership program has meetings every Tuesday up until the end of February. They will have a presentation March 15 to show the school board as well as the police department what they have learned these past few months. This new program could be the start of a powerful movement throughout high schools in the U.S.