Varsity cheer takes second place in Roseville competition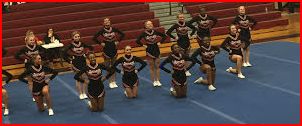 On Wed. Jan. 13, the JV/V Panthers competitive cheer teams competed in a competition held here in the main gym. The competition was filled with hungry schools looking to take demand in the competitive MAC White division. This competition featured both JV/V for all teams including Roseville, Fraser, L'Anse Cruese North, Romeo, St. Clair Shores, and Utica. The field was set, and the teams were ready to compete.
Throughout all three rounds, there was much high flying action, as all teams were looking to take the first place crown. All 12 Junior Varsity and Varsity teams looked good within the first round, with little mistakes throughout the round. The second round saw a lot of key mistakes by some teams, and teams, such as Roseville, St. Clair Shores, and Utica, took advantage of those other teams' mistakes and went through the round with little to no mistakes. When the third round came, it was time to show how high they could lift and throw the flyers in the air. Most of the teams were able to keep calm during the mistakes, and eventually finish strong. Both JV/V Panther teams had a well performed third round, and finished the competition with little to no mistakes.
Even with the well done performances, both the JV/V Panthers teams came up short of first place. JV finished in third place with a total of 572.2 points. Varsity finished in second place with a total of 725.22 points. Even with the strong performances by both teams, they came a hair shy to Utica, who took first in both JV/V competitions. Even though it was not a first place finish, it is still a top placement. Both teams looked sharp, strong, and determined, and look to keep the momentum heading into their next competition in the Lake Shore Invite on Jan. 23.
"I am so proud of my team, we did so good Wednesday, we got second but we have a few more comps to get first!" Senior Shawna Brandt said.