Feast treats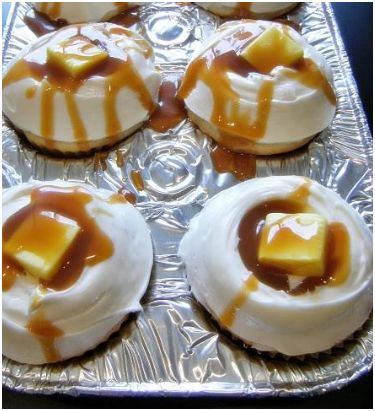 All holidays come with an opportunity to get creative with decorations and food choices, but Thanksgiving can be particularly exciting because it typically includes a traditional meal with foods that we all know and love.
Some families choose to put a clever twist on their dessert and create cupcakes that actually look like the Thanksgiving meal. Believe it or not, it is fairly easy to decorate cupcakes individually to look like mashed potatoes, pies, cooked vegetables, and even stuffed turkeys. Why not post pictures of adorable cupcake creations on Twitter?
Mashed potato and pie cupcakes are simple to make, but are pleasing to the eye when placed out with other Thanksgiving desserts. In order to decorate your cupcake to look like mashed potatoes, there are three components. First, thickly frost your cupcake with white frosting and leave a small divot in the center. Second, pour melted caramel into the divot to look like gravy. Lastly, place a yellow Starburst on top to look like the butter. That is it, three simple steps to adorable mashed potato cupcakes!
Cherry pie is yet another cute and easy way to deco rates your Thanksgiving cupcakes. This design only takes four steps. First, use food coloring to dye your frosting to a beige color (to look like pie crust) and frost your cupcake. Next, cover the top of the cupcake with small red or blue candies (M&M's work well) that will look like the berries in the pie. After that, put your beige frosting in a zip lock bag and cut off a small corner of the bag (for piping out the frosting). Lastly, pipe around the edge of the cupcake to simulate the pie crust, and then make a cross hatch pattern across the top of the cupcake. That is it, sweet and simple pie cupcakes!
Impress your friends and family with these clever little creations. What better way to show that you have holiday spirit?