Dream Dash brings community together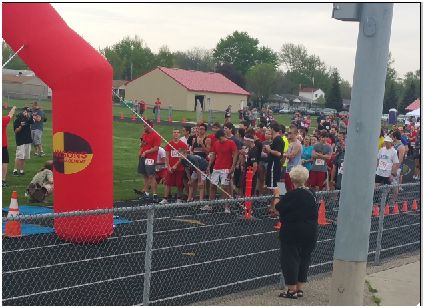 On May 9, RHS students, staff, and members of the community gathered for the second annual Dream Dash, now named in honor of junior Joe Manfreda. A total of 171 participants walked or ran the 5K, and that did not include the countless volunteers and supporters that also came to help. RCSSF raised about three scholarship amounts, which comes out as a total of around $3000.
First place fell into the shoes of a Roseville parent, Walter Kotelniski, shortly followed by senior Anthony Moss.
 "I ran it for my buddy because he would've wanted anyone to and it was honestly an amazing experience seeing everyone come out, students and teachers," Moss said.
The race was truly an amazing event, and to top off the excitement, there was a special man who found Joe and this race so inspiring even at 90 years old. Don Clark, a navy World War II veteran, finished the race in just over an hour.
 "I gave him my medal because I knew it was something that Joe would have done," senior Meaghan Allen said.
This race is an opportunity to raise money to help student further their education, but this year's event brought people together in the community in honor of Manfreda.