The Addams Family Musical 2023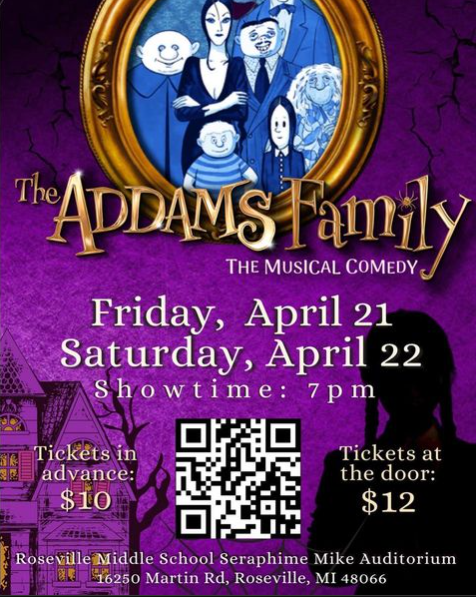 SHOWTIME! It's that time of year again! Roseville High School will be portraying the heartfelt and hilarious musical comedy, The Addams Family.
"I just can't wait to see the reactions on the audience's face," senior Paris Jones-Allen said.  This musical follows the crazy and backwards world of the Addams Family, where in one fateful but hilarious night, secrets are disclosed, relationships are tested, and the family must face up to the one horrible thing they've managed to avoid for generations: change. Will they overcome these challenges? Or will they let these challenges tear them apart?  Find out April 21 – April 22 at Roseville Middle School at 7 p.m. You could buy your ticket online for $10 at https://rosevillecs.revtrak.net/rhs/rhs-clubs-and-activities/rhs-drama-society/#/f/RHS-Drama-Society-Ticket-Sales-The-Addams-Family or you could buy your ticket at the door for $12. We hope to see you there and don't forget to move toward the darkness!