MISD Marketing Award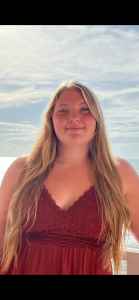 At Roseville, marketing education is offered to teach students how to become successful after high school. Although the objective of the class might seem like it is to run the Panther Den, the students are assigned more tasks like making resumes, presenting their future career, job shadowing and running a job fair. Every year the MISD has teachers nominate students that they think deserve the Marketing/ Business award. This year, Marketing teacher, Jeffery Verkyn, nominated senior Sydney Masterson.
"Sydney has been a great asset to the Panther Den. Not only does she have great skills, but she also leads her class members to do the same. Sydney has also been a huge part of enhancing the Den, for example, the online store that she helped create which opens soon," Verkyn said.
Masterson has been very involved throughout her high school career, playing varsity softball and basketball since freshman year and playing volleyball throughout all four years of high school.
"I feel honored and lucky to be picked out of so many students and I am happy to see my hard work pay off," Masterson said.
Sydney will further her academic career in the fall, attending college at either the University of Michigan State, pursuing a career in the Veterinary field, or at Macomb Community hoping to play softball for the first 4 years.
"I feel like marketing prepared me for job interviews, taught me how to work with people I might not like at some times, and how to manage things to make them run smoothly," Masterson said.
Masterson will attend an award breakfast on Feb. 10, 2023, receiving her award and being honored by the MISD.