Marching band performs for elementary and middle schools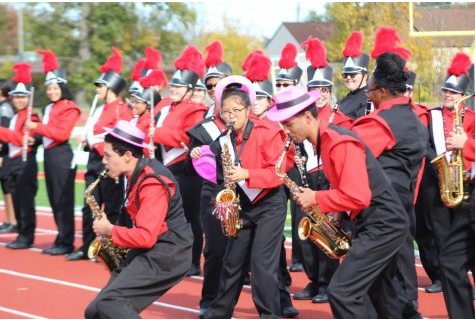 On Thursday, Oct. 24, the RHS marching band performed for all fifth grade elementary band students, including Roseville and Eastland middle bands. Color Guard welcomed the kids at the entrance of the football field by holding their flags up to make a tunnel, and the drummers stood across from concessions playing songs while the kids walked to the bleachers.
To get the kids fired up, the band students first introduced themselves in their sections, with a special performance from the trumpets playing "Baby Shark." The kids even joined the dance.
After getting into formation, the band used their performance they play at halftime during football games, with senior Meghan VanDamme leading the way. The performance lasted about 15 minutes and included songs such as "Bang Bang," by Nicki Minaj, Jesse J, and Ariana Grande, "Fight Song" by Rachel Platten and "Party Rock Anthem" by LMFAO.
"I liked performing for the kids because it helps bring new members in and it's fun watching the kids get excited," junior Madelyn Tribu said.
The kids cheered continuously and when it ended, the band played songs while the students left to keep the energy alive, including the drum line putting all their bass drums together and having a laugh while trying to make a tune.