Drama society bounces back for another big year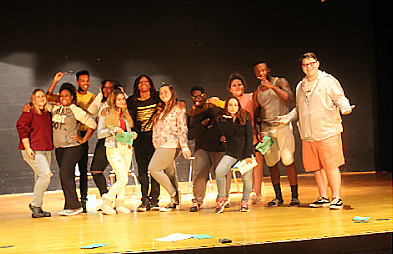 Drama Society is back up and running this year with big plans in store. The members are planning to put on the play Ghost Hunt, written by Brian Taylor, on Oct. 25 and 26 at the RHS auditorium. This spooky play will be fitting with Halloween right around the corner. The club has other productions in mind for later in the year, including the well-known musical, Chicago by Maurine Watkins.
Choir teacher Christina Collins has moved up this year from being solely a vocal coach to the director of Drama Society. Collins says she is excited for Drama Society this year, and the auditions held in early September went well. While the roles have already been cast and positions for the club established, anyone interested in joining Drama Society to help with technology and light support should talk to Collins in room C133 for more information. Regular meetings for Drama Society are generally Wednesdays, but exact dates will be posted soon outside of her room.
"I'm very excited to give our RHS students the opportunities to use their acting talents. High School is the best time to explore these chances. We are going to have an exciting year and really promote the dramatic talents of RHS students," Collins said.
Senior Cody Quiroz has been in Drama Society since his freshman year. He is still as excited as he was then to participate in this year's productions, especially now that he is vice president alongside fellow senior Kaelyn Kowalski who is president. Quiroz is looking forward to the upcoming Ghost Hunt play where he has been cast as one of the main characters. However, he's even more so anticipating Drama Society's winter musical Chicago, calling it "the best musical ever." Quiroz has big goals for his fourth year in the club, as well as for his fellow drama members.
"I want everything to just be amazing and be the best we can possibly put on," Quiroz said.