Senior night for the boys' varsity soccer team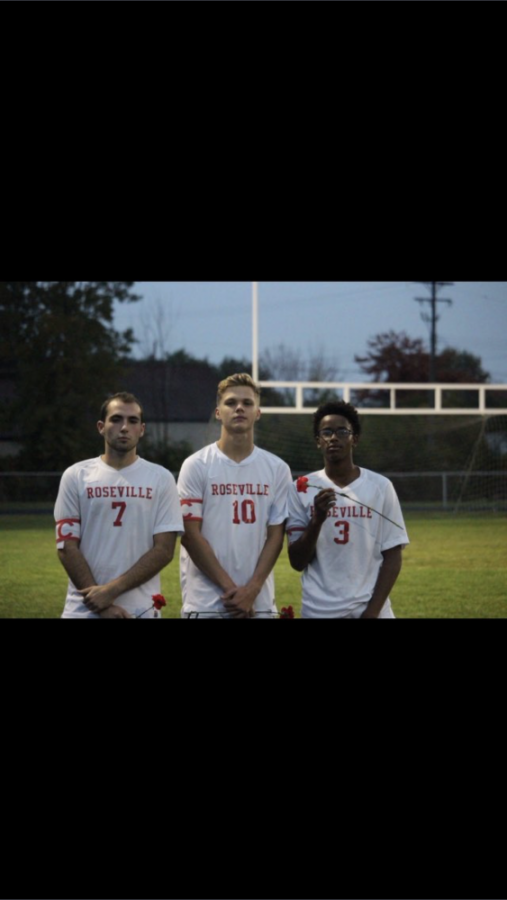 Wednesday, Oct. 11  the seniors on the boys' varsity soccer team were honored by their parents with roses for their last regular season home game. The seniors in question are: #00 Joshua Brezinski, #3 Kaleb Taylor-Terry, #6 Michael Lineberger, #7 Noah Daudlin, #8 Colin Spitaels, #9 Michael Braginez-Davie, #10 Austin Lorentzen, #11 Dylan Somoski, #15 Quincy Weatherspoon, #16 Farris Batarseh, and #18 Austin Nezol. The seniors celebrated senior night with a win, and the boys' finished with a record of 5-7-1.
The first half started with a lot of effort and fight from both teams. There were a couple of close shots from both teams. Even with the rain affecting how slippery the ball was, the goal keepers made some great saves. Junior number 17 Ian Major scored a goal to put the Panthers ahead. The deficit was quickly erased when Port Huron scored a goal to even tie it up before the end of the half. During halftime, the seniors were given roses and took pictures with their families who came out to support the seniors in their final regular season game.
During the second half, there was a lot of good defense by the teams. Both teams were putting a ton of effort, with even getting dirty for the balls on the muddy field. We saw a lot of back and forth action from the two teams, with no one scoring until there was only ten minutes left in the game. Junior number 14 Ryan Shiemke scored the game winning goal to give the Panthers another win. RHS ended the season with a 3 game winning streak. "It's sort of bittersweet for that to be my final game, I'm happy we ended with a victory, however I'm also sad because that's my last game", senior Dylan Somoski said.  The team hopes to keep the streak alive during districts. The first district game is Monday, Oct. 16 against Warren Mott.