Actions of school board VP results in protest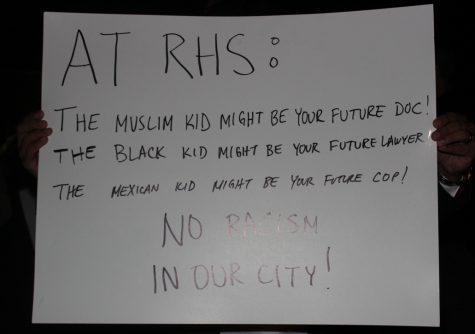 On Dec.5 , a peaceful protest was held against school board Vice President Alfredo Francesconi addressing his recent Facebook posts against Muslims and African Americans. The protest was organized by former student Meriam Uppal. The protest was held in front of the administration building at 6 pm before the board meeting. Participants showed up with signs against hate and chanted, "Alfredo must go".
After the meeting's scheduled agenda, Uppal and three other community members spoke up about this issue and directly asked the board members questions. Francesconi left without answering any questions while his colleagues responded to concerns from the public and various media outlets.
Many board members supported Francesconi's right to first Amendment who has been a board member for more than 30 years.
Superintendent John Kment explained while he does not philosophically agree with the content of his Facebook posts, he does believe in freedom of speech.
Also present were counter-protesters who were there in support of free-speech. They claimed to not agree with Francesconi's beliefs, but in is his right to "freedom of speech."
"We are deeply annoyed and disgusted about Mr. Alfredo Francesconi leaving, not answering questions and not getting well enough response from the school board members," former student/protester Ali Khan said.
The protesters hope that he resigns or issues a public apology, taking responsibility for what some view as unacceptable.