Citizens in Roseville gather for the annual big bird run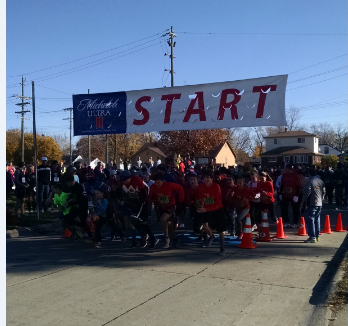 On Sunday, Nov. 8, the 37th Annual Big Bird Run took place at the Roseville and Eastpointe Recreation Authority Center. Events included: 10k, 4k, or 1 mile fun run. Runners got chances to win various prizes with the tags at the bottom of their bib such as: a turkey, a portable charger, a backpack, or even a gift basket from The Body Shop. These were drawn as the runners are running their race. After the races were over, awards were given out to the top three people in certain age groups.
From our school, Principal Peter Hedemark and substitute teacher Jamie Beolstler ran the 10k. David Clulo, David Skidmore, and the whole cross country team ran the 4k with seniors Brendan Sluchak and Julio Rosario winning second and third place with times of 15:42 and 15:43.
            "I was doing this for Joe Manfreda. It made me feel like I was flying and made me feel good so I wanted to finish this race faster,"Sluchak said.
Everyone that participated in this race helped give money to local families in need, along with the businesses that helped sponsor this event.