Top Ten Students
On March 29, principal, Jason Bettin, announced the class of 2023 top ten students! As well as our Valedictorians, Lakiya Reese and Austin Barnett with a tied gpa of 4.1 and our Salutatorian Paige Tomala with a 4.0.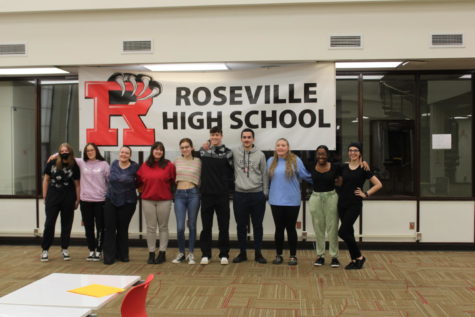 There hasn't been a tie in valedictorian history since Roseville High School was called Carl Brablec High school.   
After high school, Lakiya plans to attend Macomb community college for 2 years while learning two languages to become an interpreter/translator. Becoming valedictorian hasn't always been a goal for her. After community college she plans to transfer to a university. ''I'm happy that I'm valedictorian, a lot of people say I deserve it. I don't really feel like it was something I've been trying to accomplish, I just did it," Reese said. 
Austin will be attending Grace College for mechanical engineering. Becoming Valedictorian has been a goal of his since freshman year. "I'm happy it makes me feel like I was able to accomplish something.'' Barnett said. 
The remaining students of the top ten list are Drewann Widen, Eduard Telychkan, Jessica Olinger, Katelynn Miller, Sydney Masterson, Julia Fetty, and Neveah Duerksen. Congratulations To our 2022/2023 Top Ten!