JV bowling takes first place in state finals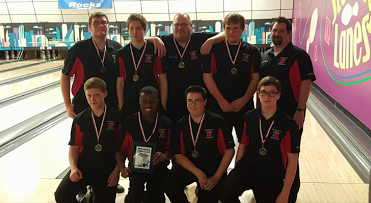 On Sunday, Feb. 22, the junior varsity Panthers bowling team competed in the state finals against 31 other teams from all around the state at Sterling Lanes to compete to prove they are the best team in the state. All 32 teams, including the fifth seeded Panthers, fought hard to get to their spot, and were ready to battle to see who would take the crown.
In the first round, the Panthers faced off against Port Huron Northern, in which Roseville won, 387-308. Moving onto the second round, the JV squad faced off against Walled Lake Central in the round of 16, in which the team won by a whopping 399-327 score. With two rounds down and two more to go, Roseville faced off in the round of eight against Westland John Glenn, where the Panthers won by 16 points, 360-344. Moving onto the final four, the championship round, they faced off against Flint Kearsley A Team. Coming into the match with a lot of pride, Roseville blew out the opponent, by a score of 574-364. With the win, the JV took first place, beating out 31 other teams in the state. This victory will go down as one of the biggest in school history.
"The whole team was bowling great, we were all 100 percent, zoned in and confident. No one bowled bad; we all bowled great, and winning was the only possible outcome when you are bowling that well," senior Adam Walzak said.